Belgravia Magazine May 2013
Despite the economic climate, there are opportunities to be had in property development.
Many are local and the overhaul of the structure can be immense, even in an unassuming mews house, as Alice Tozer discovers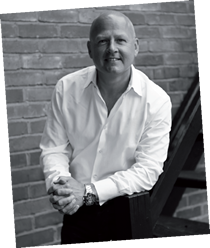 Steve Aldridge, owner of CityScope Developments, is checking up on proceedings at his latest venture, Chesham Lodge, when I arrive on site for a rare peek at proceedings in this, literally, halfway house. If you take a left where Chesham Place meets Belgrave Square, then sidle alongside the security set-up at the German Embassy, you'll reach a quaint row of housing. Welcome to Chesham Lodge; a new build house in prime Belgravia and thus somewhat unique.
Many spuriously throw money into property investment without the know-how to make a serious return on the investment. Steve showed nous from the outset; when his grandfather died and left him some money, he invested it in a small flat, which he renovated and sold making a comfortable profit. He then went on to buy his second property, having the same success. Events ricocheted from there.
Little did he know that twenty years later, through hard work and dedication, he would become one of prime central London's leading property developers, known for being reliable, consistent in the delivery of excellence and quality, and respected by leading estate agencies and his peers for a no-nonsense approach to developing properties.
Part of his success has been down to his niche focus. Steve says, 'I believe it is important to pick a location in the market and in my case this is Belgravia, Kensington and Chelsea. I only search for properties and invest in these areas.' Steve knows his locales inside out and claims he 'always looks for the hidden gem.'
Aside from Chesham, he has developed local properties in Jubilee Place, Donne Place and Belgrave Mews West. With the property development market having become increasingly competitive, and over seventy percent of buyers coming from overseas, expectations from the latter are far higher than ever before. Developers find themselves required to constantly raise the bar of their refurbishments and incorporate new ideas to extract maximum value for their projects. Chesham Lodge has a double basement and is sympathetically renovated in keeping with the architectural environment. You wouldn't know the depth of what was to await you inside. There is even a lift! Planning permission wouldn't have allowed a roof terrace but the house was intelligently designed by Tessuto to maximise the use of natural light. A large bespoke glazed roof light is positioned at the top of a sinuously curved, oak staircase. Glazed floor lights and doors sit on the ground floor and basement areas.
Steve now has a portfolio of homes currently under development which are selling for up to £20million. 'It is so important to know who the buyers are,' he says, 'and to keep up to speed with the latest in interior design, to know what they are looking for. Without this knowledge, it's just cream walls and a soulless home.' Steve's houses are fully furnished with cutting edge technology prior to sell.
Even though the volume of development opportunities have been shrinking over the last five years, if you know what you are doing there are opportunities to be had. It is thus survival of the savviest, and of the least scared. Steve says, 'Every project is a high-risk investment for both the investor and the developer; that's what makes it an exciting industry to be in.'
Steve and his loyal team exhibit a meticulous attention to detail; handpicked Cararra marble adds elegance to Chesham Lodge's kitchen and bathrooms. He engaged Knowles and Associates, specialists in subterranean development, and together worked very closely with both Westminster Council and Belgravia's residents to submit plans that maximised potential with minimum disruption. Even the scaffolding (at the stage I visit) is done tastefully. Chesham Lodge will have taken twelve months to develop and will go on the market in June, for in the region of £15million. It is sure to be snapped up imminently.