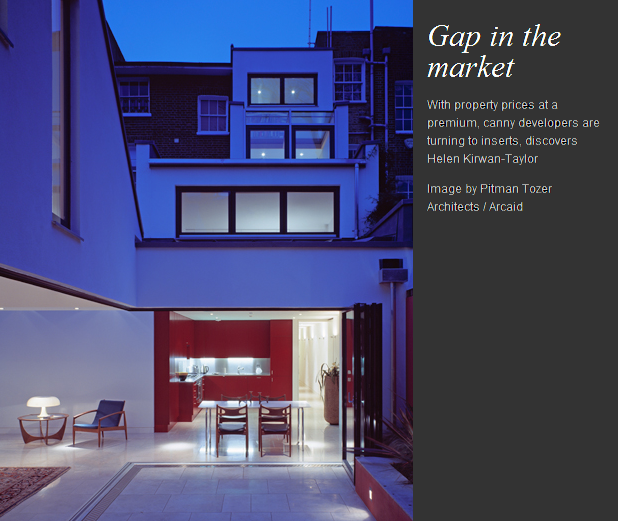 Developer Steven Aldridge has the enviable job of having to keep prospective buyers at bay as he rebuilds a house in Chesham Mews, Belgravia. This is no normal mews house, mind you, but two (unlisted) houses knocked down to create arguably the largest property of its kind in London. Located behind a European embassy, the 4,600 sq ft space will include a cinema room, gym, integral lift from the sub-basement to the fourth floor and a staircase leading to the fifth floor. A wine room runs under the next door plot (which a smart buyer might convince the existing owner to part with).
Aldridge, like many other clever developers in London, scoured the streets looking for possible demolition jobs - or better yet, vacant lots to convert into small (or in his case, enormous) family homes. This has become the holy grail of architecture: if there is so much as a 10-foot gap between two buildings, or a lot that is presently not doing much, a planning request goes in, just in case. Clients line up because these sorts of new builds - or 'inserts' as they are called - are zero-VAT rated.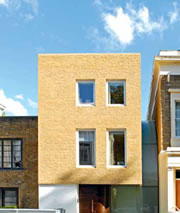 All over London, interesting properties are underway, or on the market. These include a derelict builder's merchant which Michaelis Boyd Associates is developing (by digging under and around) into a massive 10,000 ft courtyard home with a swimming pool in Primrose Hill. There is also a former chapel turned boxing club turned 1960s-style family home in Notting Hill, designed by architects Powell Tuck Associates, that reportedly just sold for £6.5 m - which is fuelling the demand for such properties even more. Now any space with potential to be built on or expanded into a showhouse - complete with glass floors and the latest in stainless steel - is jumped on, sometimes before it even comes on the market. Soon afterwards, these reappear, now on sale for triple the price.
When Aldridge heard that planning permission had been granted to tear down the existing mews three years ago, he was straight in there - as were a handful of other clued-up developers, who needed to be outbid. The mews house, designed by architects and design firm Tessuto, will be completed this spring, has a two-tier basement, four bedrooms and four bathrooms and, of course, all the finest amenities that today's rarefied - presumably international - buyer demands. Given the unusual, and amazingly private, location, it is unlikely to stay on the market for long.
Finding an empty plot in London that can be converted into a residential home is hard enough. Then there are the limitations, such as neighbours who are increasingly fed up with the endless digging down, and odd configurations which often mean going under the building next door. Developers will jump in and buy, and cross their fingers that planning permission will follow. In some cases, there can be a long gap between the two.
Often it's a question of thinking innovatively, which is where the architects come in. Possibly the busiest of the 'insert' firms is Seth Stein Architects, which has many new builds under its wing - including a house on Portland Road that was cleverly built over a plot with an artist's studio and a shack. They knocked down the shack and built a 550 sq ft house on two levels.
"Of course, people prefer new builds if they can find them," says director Nico Warr. "You get to bring in all the new existing technology, and to design a house that is made for today." Where they can't actually tear down a building - because it's in a conservation area - they tear everything down except the iaçade. London is like a film set at the moment, with so many homes consisting only of the front brickwork, supported by scaffolding.
Sometimes it's the client who finds a space, then tries to figure out what to do with it. This was the case with the artist Anish Kapoor, who found a tucked-away plot behind an Edwardian apartment building. It's hard to see where the house is (there's just a small façade that gives nothing away) - which is part of the fun, if not the point. Kapoor hired Tony Fretton Architects to figure out how to turn the lot into a house. Fretton had to dig under the apartment building next door and resort to cleverness - with glass, different levels and basements - in order to bring in sufficient light and space.
Another trick is to look for an 'ugly' house. Architect Jonathan Clark's clients found two in Chelsea, which have just been torn down to make way for a 5,500 sq ft house with a basement. "Ugly post¬war architecture, the kind no planner will argue with because they were built in haste, is now very much in demand," he says. David Furze, a designer/developer based in Holland Park, had been eyeing a 1950s house squeezed between two buildings in Lansdowne Walk for some time. He finally gained permission for a 2,200 ft new build. "I saw a light on in the house, went in and spoke to the cleaner," he said. Shortly after, he persuaded the owner to sell.
New builds require imagination, which is why architects often take the plunge for themselves and sell it if it works. Luke Tozer of Pitman Tozer found a small gap house (all of 8ft wide) in Notting Hill. He tore it down and built himself what is appropriately called the 'Gap House'.
Photographs: Nicholas Kane/Arcaid Images: David Furze